3. REGIONAL BRAILLE PRESS & LARGE PRINT UNIT
REGIONAL BRAILLE PRESS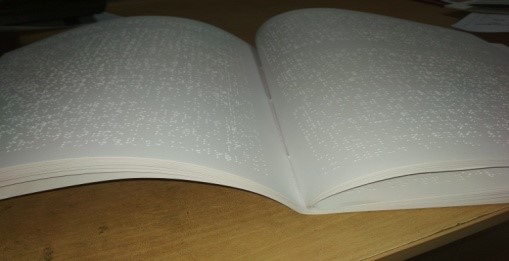 NIEPVD Regional Centre, Chennai has established a sophisticated Regional Braille Press in the year 2009 at its premises. The Braille Press is equipped with computer assisted technology and modern imported machineries. Four High speed Computerized Braille Embossers in two models Braillo 440SW and Braillo 650SW have been installed in the Press and are functioning with the printing capacity of 5 Lakhs Braille pages in a month approximately.
School text books are printed for distribution to children with visual impairment as per orders received from the respective State Governments in the Southern Region.
Other than school text books, Bimonthly magazines, children story books, general interest books, etc., have also been printed to increase the reading interests among various age groups of persons with visual impairment. Printing of dummy ballot papers and other literatures in Braille are also undertaken during General Elections to the State Legislative assembly constituencies and Parliamentary assembly constituencies.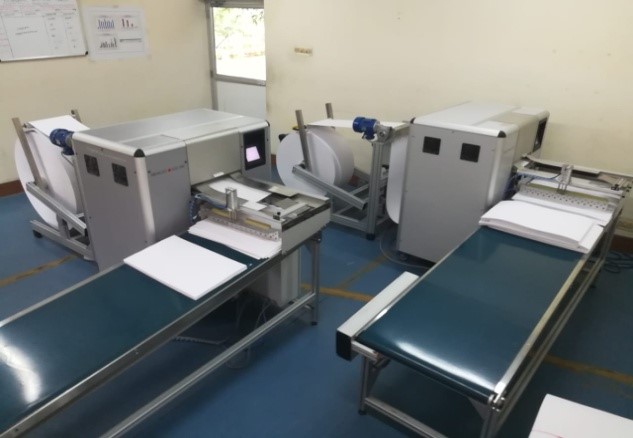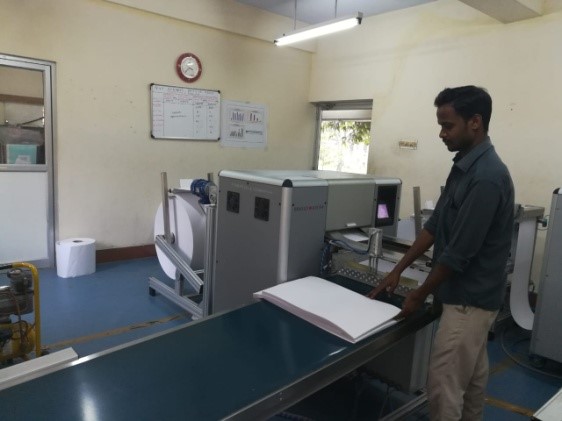 Books are transcribed into Braille through Duxbury Braille Translator popularly known as DBT which provides translation and formatting facilities to automate the process of conversion from regular print to Braille and also provides word-processing facilities for working directly in the Braille as well as in the print. Unicode fonts are used for displaying the Braille.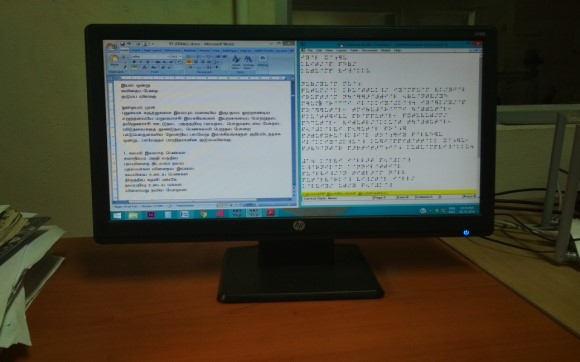 PROOF READING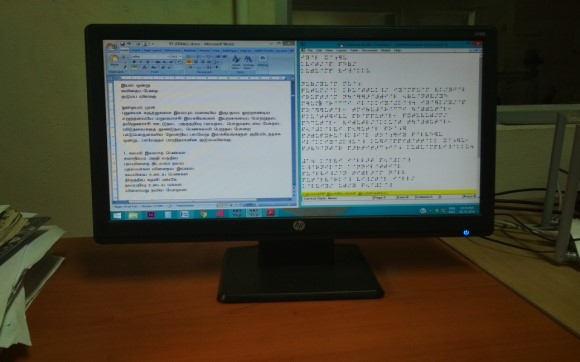 The proof reading of text books are undertaken at this Centre through experienced Braille readers and copy holders to make the books free from error.
BOOK BINDING PROCESS
Books binding work is being done by persons with low vision. The Postal Dept. is rendering its supportive services by despatching the Braille books to various destination points across the country at free of cost.
LIBRARY EXTENSION COUNTERS IN TAMILNADU
Under National Library for the Print Handicapped (NLPH) Scheme, the NIEPVD Headquarters establishing libraries across the country. As a part of it, a library is set up in St. Amalarakini School for the Visually Impaired, Thiruvannamalai, Tamil Nadu for the benefit of persons with visual impairment.
LITERATURES AVAILABLE IN BRAILLE
School Text books
Dummy Braille Ballot papers / SVEEP booklets on election related activities
Books of general interests / novels / children short story books in languages viz. Tamil, Kannada and Telugu
Bi-monthly magazine "Braille Paarvai" in Tamil
Thirukural- a classical Tamil book in Braille at free of cost
Course materials for Vocational Training Centre
Standard English Braille Contraction
Carnatic Music Notations
Hygienic Health tips in Tamil, English, Kannada, Telugu and Malayalam.
PRICING POLICY
For children with visual impairment studying in Govt. Special Schools / Govt. aided Special Schools, the Braille books are provided free of cost. Based on the School Headmasters' request along with the list of students studying in their schools, the Braille books are provided at free of cost.
For Govt. Teachers, the Braille books are provided at highly subsidized rates (1/3rd of cost of the materials). Packing and forwarding charges 3% extra.
For school children studying under SSA and other Integrated settings, the books are provided at Rs.1.50 per page.
Annual subscription fees of Rs.75/- for individuals and Rs.600/- for organizations are charged for NIEPVD Regional Centre Bi-monthly Braille magazine "Braille Paarvai".
Thirukural, a classical Tamil book in Braille is distributed at free of cost.
LARGE PRINT UNIT
Children with low vision need reading materials in large font size. With the objective to reduce the dependency on using low vision devices and non-optical approaches, a Large Print Unit is established in the Centre to provide school text books in Large Print format.
DTP PROCESS
A Xerox Monochrome D125 printer and Xerox V180 Colour printer is installed to print books in standard page layout and the books are neatly wrapped and laminated with cover pages.
Books are priced at subsidized rates for the benefits of children studying in Special Schools, SSA and other Inclusive settings.